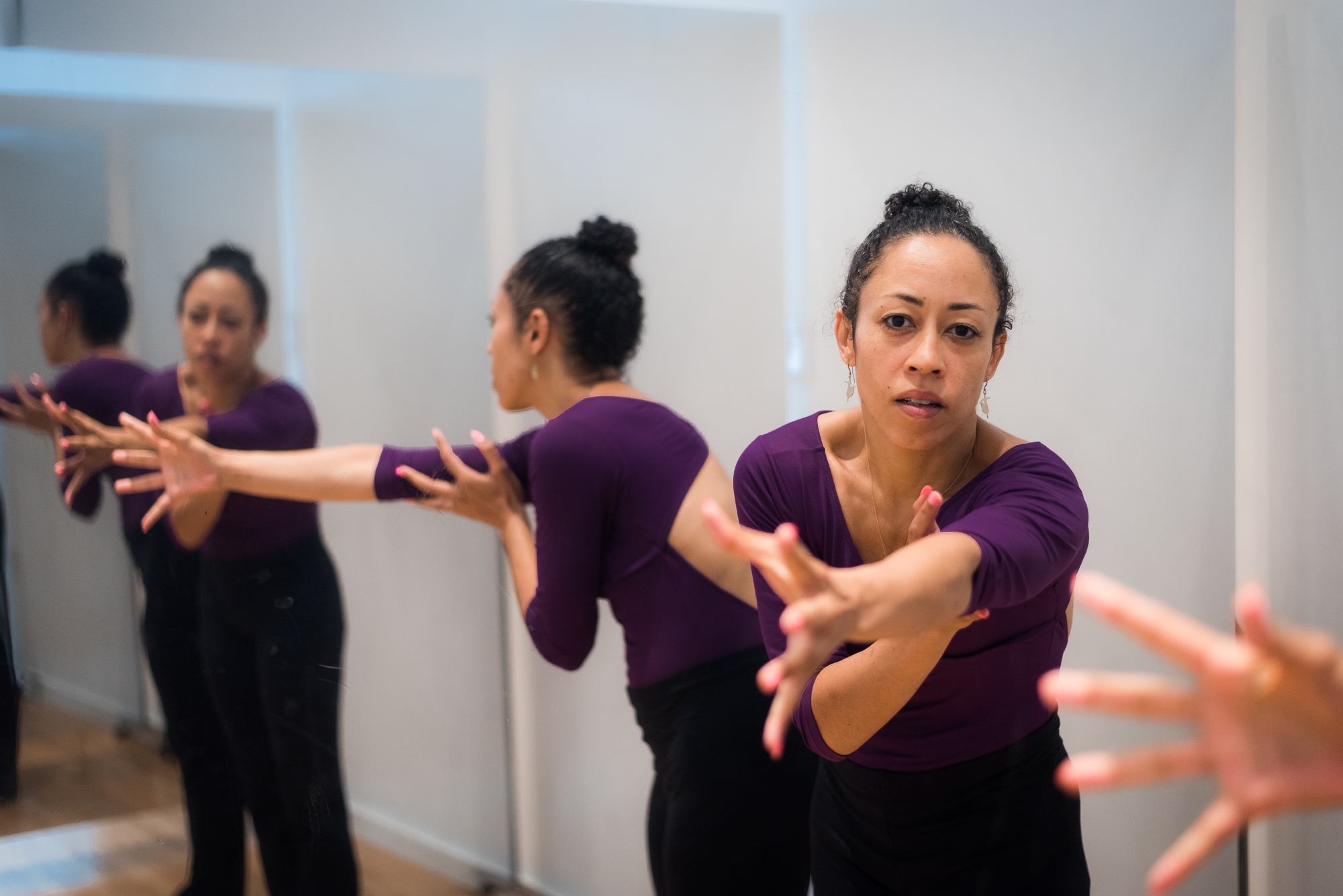 Buddhist, Dancer, Choreographer, Non-Profit Founder
Karen and I met at the New York Sports Club on the Upper East Side at which she teaches my favorite yoga class in Manhattan. I was quickly struck by Karen's innate ability to charge a room with energy.
Our day together was purely creative. Both her and I are at points in our journeys where creativity fuels new projects and a new future. Her story brought us from 224th St. in the Bronx all the way down to TriBeCa.
After creating with this beautiful multi-talented woman for a whole day, I feel fueled. Karen's story is full of ups and downs, but she has never let her rollercoaster of a creative career deter her from getting back up and continuing on. Furthermore, her current projects excite me and I believe she's on a path of extreme success.
Many of Karen's endeavors have sprung from partnerships. In our interview, her and I delved deeper into why collaborations work so well for her and what she has learned from 18 years of collaborating with other artists in NYC.
My favorite saying, "the struggle is real and the hustle is deep" applies to Karen through-and-through, but she so gracefully carries herself, blossoming each time she makes a change in her life just a little bigger and brighter.
QUICKFIRE Q'S:
Q: Why did you choose to live in your state/city/town?
A: Dance Career
Q: What is your favorite brunch spot nearby?
A: Honestly, any brunch spot. Brunch is my favorite.
Q: Best cup of coffee in the neighborhood?
A: Can't drink it anymore. Quit 2yrs ago.
Q: Is there one morning ritual you can't live without?
A: Nam Myoho Renge Kyo. It used to be cigarettes
Q: What's your favorite '80s or '90s jam?
A: Livin on a Prayer, Don't Go Chasing Waterfalls
Q: Where was the last place you traveled to?
A: Memphis, TN
Q: What's one not-to-miss activity there?
A: The African American Museum and the Motel MLK was shot
Q: Do you prefer traveling by train or car?
A: If in the car, are you a driver, a passenger or a backseat driver? I love an Amtrak train, otherwise I'm a driver of a Car for sure.
For a deeper dive, listen to Karen's full interview below!
Karen's journal entry transcribed:
I look back at all I have achieved in my career and I must say I should give myself a pat on the back. But, I don't feel this way often when I wake up in the morning, My day usually begins with feeling depressed. I doubt myself as an artist and a dancer because of some of the choices I have made. I've lived a party lifestyle which included a lot of drugs, sex, drinking, and I struggle with not regretting. I will say though, I wouldn't change one thing. Maybe I wound've been at more auditions, interviews, shows if I wasn't hung over. But damn I had a blast! So, even though my lifestyle most likely effected my career, I know everything I did was just setting the tone for what I'm doing now. There is a quote by Buddhist mentor wrote, "enjoy what there is to enjoy, suffer what there is to suffer." I live my life now with this quote in mind. It's really another way to say "no negrets." So after I was up funky, I immediately go to my alter and chant to always appreciate every decision and cause I've made on this journey. Live each day to the fullest. No matter what, every cause we make leads to another opportunity to grow, learn, experience and create. So bring on the obstacles! I'm ready!
CONNECT WITH KAREN NICELEY