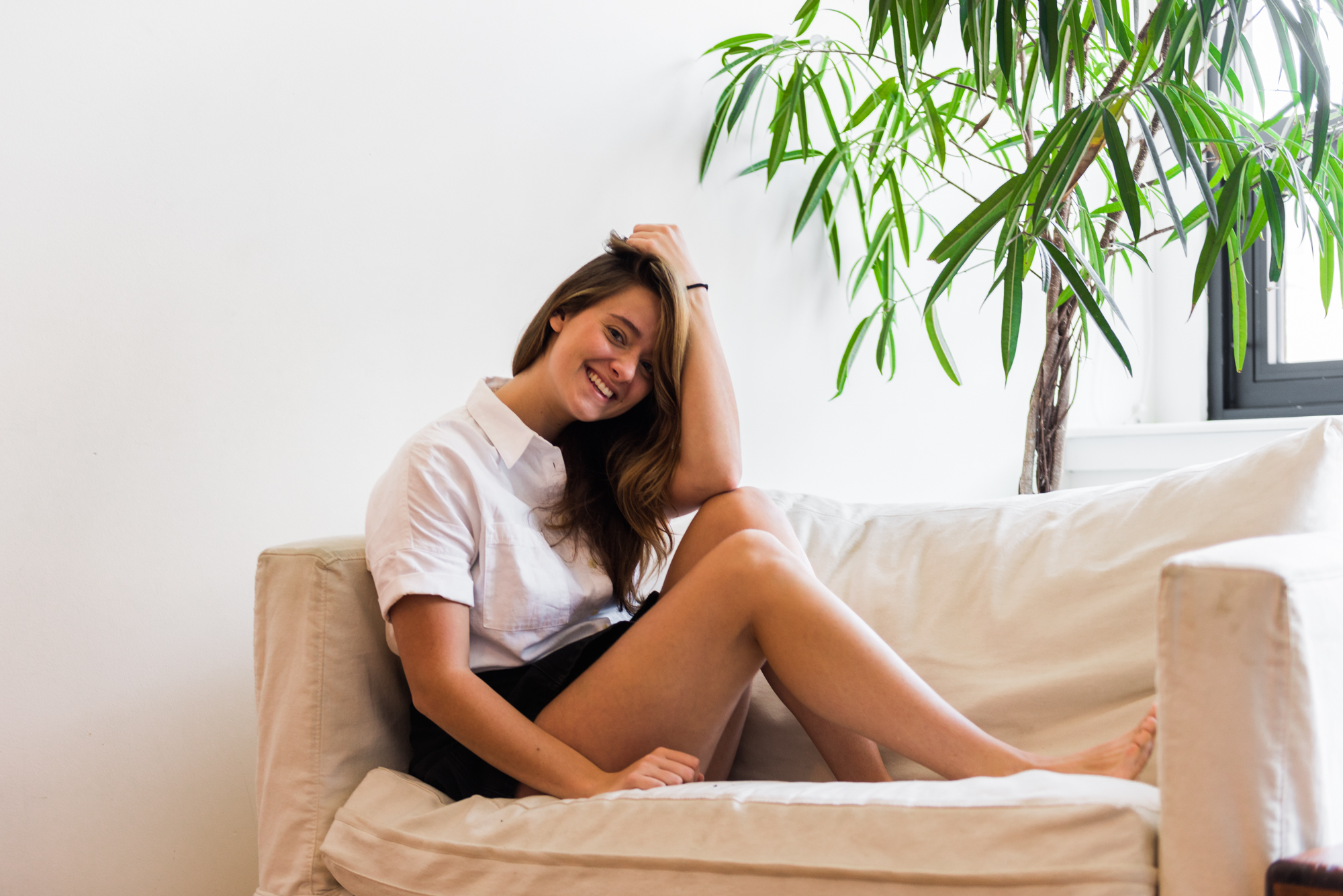 Artistic Director of Brunch Theatre, Writer
Haley and I have been in a continuous state of criss-crossing for quite some time now. This story and the connection we fostered while creating it was magical.
I don't get along very well with people my age because there are few people as driven and who are actually making their dreams come true by pounding the pavement and working their tails off like I am and do. I appreciate everyone's journey, but I connect deepest with those who know how to walk this talk. Haley is one of those shining stars.
Haley knows what she wants and she isn't stopping until it all comes true. She's loud and proud. She's multi-talented and excited by how all her passions collide.
To spend time with someone my age who sees me and who is excited to dig deep and be vulnerable fed my soul. I knew we'd create magic, but my original ideas for some of her visual elements were so spontaneously enriched. For example, I didn't know that Haley would share the story of the song connected with the celebration of her grandmother's life, or that her photos would include her writing in the subway.
Like I say in Haley's interview, peel back Haley's many layers and revealed is a boundless love that is unmatched in the millennial community. I'm proud to call her a friend, thrilled to have had the opportunity to tell her story and thoroughly enthralled by her being.
QUICKFIRE Q'S:
Q: Why did you choose to live in your state/city/town?
A: I chose to live in NYC because my grandfather lived his entire life here. And because it is a literal playground for my craft.
Q: What is your favorite brunch spot nearby?
A: Juliette in Williamsburg
Q: Best cup of coffee in the neighborhood?
A: Deppanneur (iced tea)
Q: Is there one morning ritual you can't live without?
A: Making my bed, yoga practice, two hard boiled eggs with lemon and salt.
Q: What's your favorite '80s or '90s jam?
A: I need more time for this it's giving me panic.
Q: Where was the last place you traveled to? What's one not-to-miss activity there?
A: Martha's Vineyard. Sunset in Menemsha.
Q: Do you prefer traveling by train or car? If in the car, are you a driver, a passenger or a backseat driver?
A: Subway!!! Or boat. I love boats.
For a deeper dive, listen to Haley's full interview below!
Haley's journal entry transcribed:
It's been weeks since I've written anything new. Since I've has that bubbling of adrenaline through my finders saying "write right now." Which is strange, for me. But I've been running on empty, on low, the burner's been busted and the oil-can spilled.
And I've been a jerk to myself, coming from scarcity, judgments in my freezer, sleeping on a pillow-case of doubt. The subway's been a subway, not a holy place. The to-do lists have piled and my skin broke out.
Where's my church? Not in my notebook, I've looked. Where's my swelling heart, my tingling fingers, my certainty of god and holy things like sex and sweaters? Not in my drawers, not in my palms.
And then today. And all of it, with a man who so clearly was meant to be at my doorstep. And Italian markets, and my subway church, and a day clear with no to-dos. And now I'm buzzing, and my heart is swelling, and I remember that I am here to do and to be, and those are two different things and the first cannot exist without the second.
To be. To be living, awake, to be listened to, to listen. To love, to eat, to reflect, in the shadows and in the light. And that's a silhouette, isn't it?
CONNECT WITH HALEY JAKOBSON