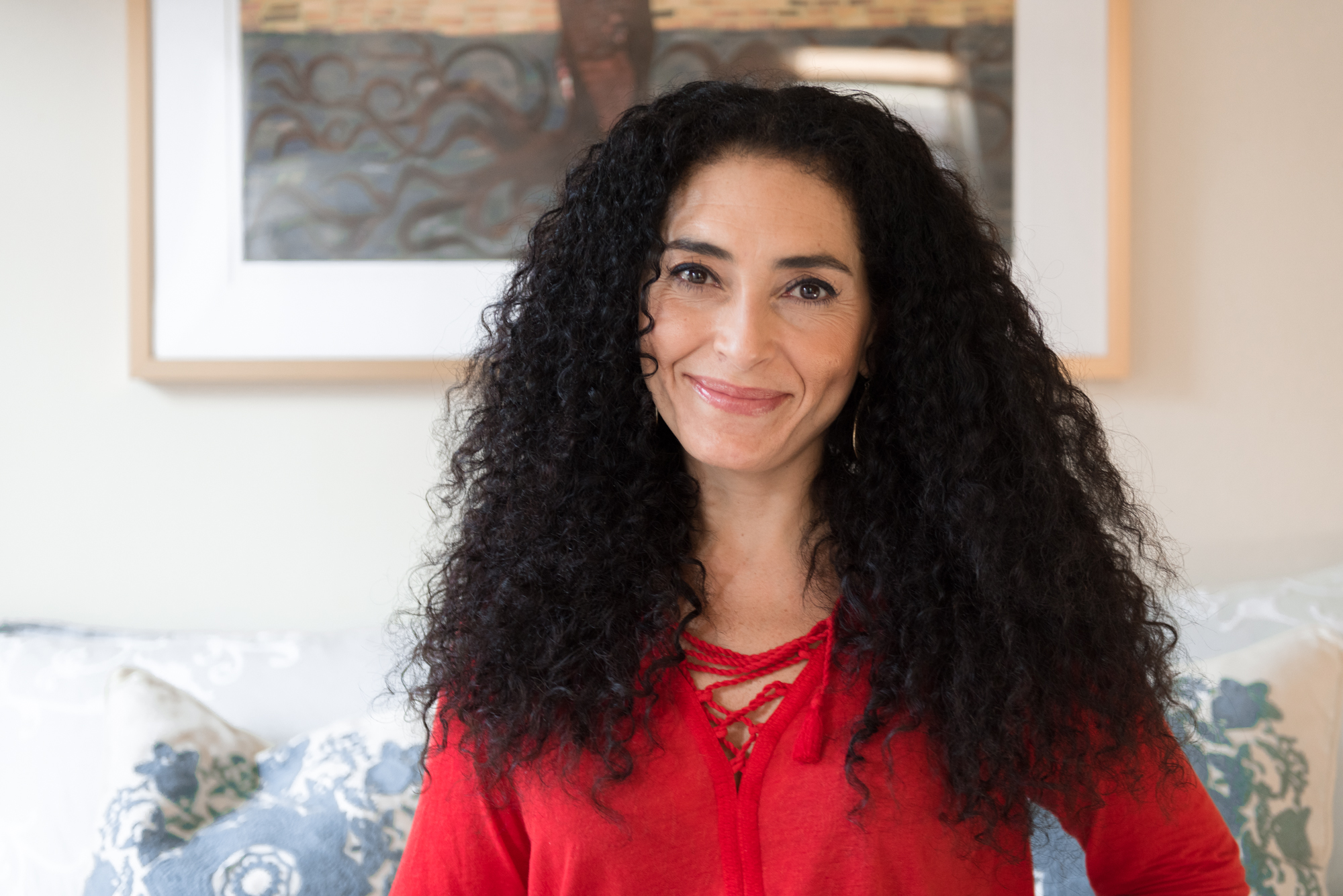 TV Personality, Journalist, Author-Poet, Certified Meditation Teacher
As with all shoot days, I started today a tad nervous. We all have destructive thoughts. Leading up to a shoot day, my mind cries out, "Do I posses the strength and creativity to help my beautiful subject see their story through to the surface? Can I help my subject realize the potential I see?" Now sitting here finishing our work, I feel humbled. I am humbled by Francesca's unique special perspective and what she has taught me.
Francesca's life took a big turn from TV news anchor and personality to now being a certified mindfulness meditation teacher while also working towards a certification in trauma healing. As we collaborated, her many layers unfolded in such beautiful ways — some even unexpected and unplanned. Francesca's depth, sincerity and passion for living a healthy whole life shines through in every aspect of her story and I couldn't be more proud of we created.
Francesca's interview is full of rich life-changing teachings. I am so honored to be bringing them to you here. Close your eyes, take a deep breath, release your judgements and be prepared to do some serious work. Francesca will challenge you to think deeply, feel without fright and explore your mind with openness and readiness.
The Catcher
by Francesca Maximé
My mother has always been there when my life has gone sideways, which has happened more than once. She's always done what she thought was best, and I know she loves me from the bottom of her heart. Sometimes we've had a rocky time, and sometimes, things have gone more smoothly. As it is with all relationships, and perhaps especially with mothers and daughters, we've been close because we're both quite alike, and different. She was a single parent and I am her only child, so our bond was fierce from the get-go.
My mom is the kind of person who would always put themselves before me; who did what she thought was best; who always cast a net, so if I fell, it would be there to catch me. Our relationship now is more nuanced than it used to be: we talk every day, we share spiritual insights, life lessons, and sometimes, even jeans! My mom was a pioneer, becoming an Emergency Room doctor even though she was only one of five women in her medical school class at Tufts. She went on to get her degree in Public Health at Harvard, and has now founded the African Health Foundation in Kenya to help give girls and women access to quality health care and education. My mother's been the steward of family stories, of photos of ancestors who came here from Italy long ago. She cares about where we came from, and wants to preserve our legacy.
My mother's done a ton of self-investigation-type of work. Yes, that means therapy, and it also means she's joined me on my journey of exploration to really dig deeper into why we're here. She has supported me 100% of the way, and for that I'll be forever grateful.
After many ruptures and losses, in family, relationship, and otherwise, we've grown closer in our admiration and respect for one another over the years. Things are indeed, ever-changing, and she won't be here forever. I'm grateful our relationship has continued to deepen, and grateful that wherever she is, I'll always know what she told me when I was little still holds true: that wherever I travel, that wherever I go and wherever I sit, that she will always be with me, tucked away, and stored deep in my heart. That, I know is true. I'll carry her with me as long as I walk the earth, just as she carried me before I ever did.
QUICKFIRE Q'S:
Q: Why did you choose to live in your state/city/town?
A: I got a job as a TV News Anchor in Brooklyn after I left Florida, and when my roommate I was going to live in Manhattan with skipped out, I decided to live in the neighborhood where the TV station was. I'm still here.
Q: What is your favorite brunch spot nearby?
A: Le Paddock – French with a homey, Brooklyn twist!
Q: Best cup of coffee in the neighborhood?
A: My homemade espresso. Second-best: Brooklyn Commune.
Q: Is there one morning ritual you can't live without?
A: Snuggling with my kitties, enjoying my espresso, saying my morning lovingkindness meditation, and lighting my candles.
Q: What's your favorite '80s or '90s jam?
A: Alright and Canned Heat and/or Virtual Insanity -- anything by Jamiroquai (which I'm told means JAM and Iroquois – combining the two, it's a nod to the power of a collective JAM on it, as well as to our wise ancestors).
Q: Where was the last place you traveled to? What's one not-to-miss activity there?
A: Just the beach in the Hamptons – Agawam in Southampton. I love it there.
Q: Do you prefer traveling by train or car? If in the car, are you a driver, a passenger or a backseat driver?
A: Trains are awesome. But if I'm in the car, you'd better believe I'm driving!
For a deeper dive, listen to Francesca's full interview below!
Francesca's Book of the Month:
"Real Love: The Art of Mindful Connection"
by Sharon Salzberg
You are a person worthy of love. You don't have to do anything to deserve all the love in the world.
Real Love is a creative tool kit of mindfulness exercises and meditation techniques that help you to truly engage with your present experience and create deeper love relationships with yourself, your partner, friends and family, and with life itself.
Sharon Salzberg, a leading expert in Lovingkindness meditation, encourages us to strip away layers of negative habits and obstacles, helping us to experience authentic love based on direct experience, rather than preconceptions. Across three sections, Sharon explains how to dispel cultural and emotional habits, and direct focused care and attention to recapture the essence of what it is to love and be loved.
With positive reflections and practices, Sharon teaches us how to shift the responsibilities of the love that we give and receive to rekindle the powerful healing force of true connection. By challenging myths perpetuated by popular culture, we can undo the limited definitions that reduce love to simply romance or passion, and give the heart a much needed tune-up to connect ourselves to the truest experience of love in our daily lives.
In this #WiseGirl interview, Francesca talks with world-renowned meditation teacher and NY Times bestselling author Sharon Salzberg. They discuss mindfulness, meditation, metta/lovingkindness meditation, community, the nature of love, voting and social engagement.
Francesca's journal entry transcribed:
Wow, a day with Eli — this Silhouette story has been such an experience.
I'm the one who usually asks the questions and coordinates the photo and video shoots — I never expected what we did today to be such a challenge in that it was a real role-reversal.
Letting go of any preconceived notions of what I think, or thought, it was, or is, "supposed to be" or "supposed to look like," was just another opportunity for me to let go and surrender to the magic of the moment, whatever that might be.
When the swan stood up and elongated its neck next to me by the lake, not only was I surprised at feeling mirrored and connected to this wild, amazing creature, I felt like we were sharing animal-creature-space, and what I mean by that is, the swan and I were just on the same level — two animals — one avian, one human, both creatures of nature enjoying a gorgeous, sunny day in Brooklyn.
One of the main things I've learned about myself and about life over the last few years is that in letting go of trying to control things and "get" somewhere, I can actually let my guard down enough to exist and be in the moment — and when I slow down and get still, that's when the miracles can not only happen, but be noticed.
Having Eli "see" me in my natural state — curly, crazy hair, easy jeans and sneakers, isn't how I've ever been allowed to present on TV, so having a chance to be witnessed for who and what I am on the inside as much as the outside, is a powerful thing.
I think it's natural that we all want to be witnessed: to be felt, seen, taken in. I think that's why we often get so tripped up with partners: we expect them to do the heavy lifting of validating us for how we look or act instead of turning the lens inward, doing a U-turn, and having the eyes go inside for a change. We can recognize ourselves for ourselves — minus the stories about ourselves that we tell ourselves. We can know that we're really not a bad person… that we're really OK… that we just have been trying hard to get someone else to convince us of that.
But what happens when we convince ourselves of that?
It's magic. It's freedom. It's self-witnessing, with non-judgmental acceptance.
It's allowing intimacy with oneself.
And that, as quiet and personal and vulnerable as it is, is what it feels like, to me, to be free.
Francesca has published two books of poetry and was kind enough to record a special snippet of her very moving poem "Googling Myself" for us!
CONNECT WITH FRANCESCA MAXIMÉ